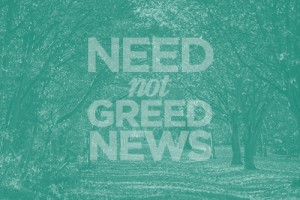 The Need not Greed Oxon campaign launched a Press Release today: 'Oxfordshire's forced economic growth strategy: Time for OxLEP and Councils to come clean on public consultation process'.
The Need not Greed Oxon Coalition is demanding that proposals for how local people will be involved in decisions on the future growth strategy for the county are published.
OxLEP, the unelected Local Enterprise Partnership, has promised a public consultation on the 'refresh' of its Strategic Economic Plan. However, so far it has failed to make clear what exactly this will involve and whether there will be any opportunity to comment on the overall growth targets.
Colin Thomas, from coalition member SPADE, said: "Last time OxLEP promised public consultation on its growth plans for our county, it cancelled it due 'lack of time'. We ended up with an unrealistic and aggressive plan that took no account of environmental or social constraints, but proposed 85,000 new jobs, 100,000 new houses and a 30% increase in our population by 2031! We think most local people have a very different vision of how they want Oxfordshire to develop, and this time they deserve a say."
"Part of the problem is that OxLEP is a limited company, not a democratically accountable body. Yet our local planning authorities have all signed up to deliver its aggressive growth strategy."
Need not Greed Oxon is calling for:
– OxLEP to publish its draft proposals for public consultation so that the public can judge whether or not these are sufficient (proper engagement v box-ticking!) and in plenty of time to allow maximum public participation in any events etc.
– Local councils (County, City and Districts) to confirm that they will not sign up to any revised growth strategy without debate at a full Council session. (Almost unbelievably, this did not happen last time, with Council leaders signing up to the proposals behind closed doors.)
Colin Thomas said: "We believe there is an alternative vision for the future of Oxfordshire – one that is not based on forced economic growth, but which focuses on meeting local people's real needs. Local democracy has been completely side-stepped in the past, but cannot be allowed to happen again."