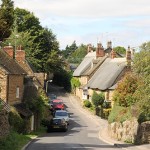 Cherwell District Council is going to court over Gladman Developments' proposal for 54 new homes at Hook Norton, Oxfordshire, which was allowed by the Secretary of State.
The Council received almost 100 letters of objection to the development and rejected the plans over environmental concerns and traffic congestion fears.
The Secretary of State called in the appeal by Gladman and granted permission, in a decision that Cherwell DC claim was "legally flawed".